Coating Pan Machine GMP Model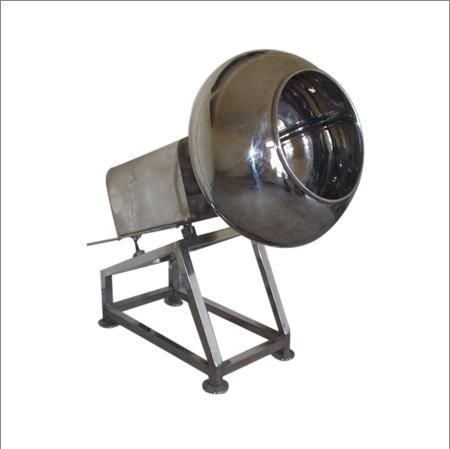 Price :
1.75 Lac
/ Piece(s)
Business Type
Manufacturer, Supplier
Type
GMP Model
Warranty
1 Year
Quality
Good
Click to view more
Product Details
Packaging Type
Packed in Box
YPMCoating Pan designed by keeping in mind needs of universal conventional coating requirements such as rotational speed, angle of inclination of pan, inside finish of pan, total volume, temperature of air and exhaust arrangements.
Special Features :
Coating Pan Drive can be available with VFD for pan speed variation which required in both film as well as sugar coating.

Spraying systems is also available with the unit.

Polishing pan is made suitable on the same drive of coating pan drive.

Hot air / Cold air blowing system is used for tablets.

Model available in sizes 12", 24", 30", 42", 48", 60" and 72".

Hot air blower system with mobile trolley and filter housing will be provided with TIC or PID type temperature controller for control of air temperature within the range of 50 degree C to 80 degree C.

HEPA filter unit (optional) can be provided along with inlet ducting lines.

Other options such as FLP motor and panel, steam heating unit can be provided.
Pan : SS 304 / 316 semi ellipsoidal size pan with a circular mouth for charging & discharging of tablets Pan mounted at an inclination of 45 degrees to the horizontal.

Drive Assembly : Consists of a suitable HP 3 Phase, 440 V, 1440 RPM TEFC motor with suitable worm reduction gear box and cone pulley arrangement to give three speed output.

Hot Air Blower :  The unit is provided with a hot air blower consisting of suitable HP 3 Phase 440 V, 2880 RPM TEFC electric motor & centrifugal blower with damper delivering required CFM. The air is heated by means of suitable electric heater to give air at 30 to 90 degrees Heater with thermostat control and flexible hose pipe.
Control Panel :
Unit provided with suitable control panel with starters and push button to actuate the
Drive and for blower the circuits consists of MCCBs, relays and contractors in series
Ample overload protection is provided by the MCCB and the relay Wires coming out of the
Connections are numbered for easy recognition.

Mounting :
The motor and gear box is mounted inside sturdy MS frame and the pan mounted on the
Gearing housing fitted in the stand. Blower mounted by the side of the stand or placed in remote
Finish : 
All joints argon Arc welded and all SS Parts polished to suitable finished required of
Pharmaceutical equipment MS parts painted to smooth finish.
Options Available :
Unit with FLP motors and FLP push button station but non FLP panel to be mounted outside FLP area,

Unit in SS 316 quality contact parts,

Unit with SS304 cladding / for GMP model and

Steam heating for blower.
Looking for "
Coating Pan Machine GMP Model

" ?
Piece(s)