Liquid Syrup Manufacturing Plant GMP Model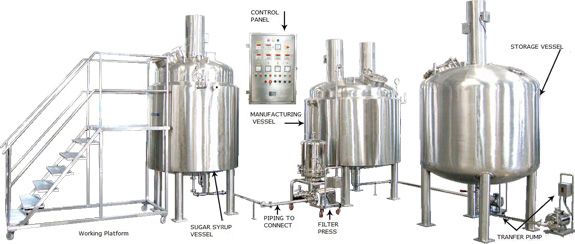 Business Type
Manufacturer, Supplier
Packaging Type
Packed in Box
Warranty
1 Year
Use
Industrial
Click to view more
Ideal solution to the pharmaceutical industry for the production of oral liquids. The process consists of Sugar syrup preparation. Ingredient Mixing and Storage with product distribution piping. Range of plant covers from 50 L to 3000 L with various options in top and bottom entry agitators for mixing and homogenizing of syrup & suspensions. Product contact parts are S.S.304 / 316 with option of jacketed vessels and heating system suitable for steam as well as electrical.


Yadav Pharma Machinery (India) Liquid Manufacturing Plant Consist the Following equipments and accessories :
Sugar Syrup Vessel
Filter Press
Manufacturing Vessel
Transfer Pump
Storage Vessel
Transfer Pump
Piping To Connect All Above Equipments
Working Platform
Control Pump
This system consists of a closed circuit manufacturing facility from feeding of Sugar / Water Phase to loading the Volumetric Liquid Filling Machine.
The Sugar and Water, are load with vacuum system or by mechanical system or manually.
The Sugar Syrup Vessel is supplied with high speed stirrer & electrical heating ( In small model ) / steam heating facility (In bigger size model ) .
The sugar syrup is prepared at required temperature & are transferred to Manufacturing Vessel by vacuum or by transfer pump.
The product during emulsion formation is re-circulated through In-Line Homogenizer or Liquid Transfer Pump.( Optional Facility )
The Pump also discharges the product in the Storage Vessel.
The Storage Vessel is then taken to the filling area (if it is small capacity) and is connected to again Liquid Transfer Pump. Or Storage Vessel remains fixed (In bigger size) & pump transfer the Liquids in the float tank which is connected with filling machine.
The entire Plant can be operated by centralized operating panel by one operator.
The plant is equipped with an electrical control panel with digital temperature indicators / controllers and digital timers.

Salient Features of Liquid Syrup Manufacturing Plant :
The Plant is designed to be operated only by one operator and one helper.
All material transfers are done by vacuum or by transfer pumps.
All the vessels are CGMP (paint free construction)
The gaskets used are of silicon (food grade).
All contact parts are of S.S. 304 quality material (SS316 provided on demand) & finished to class 4B (Mirror) finish and are crevice free.
The entry of stirrer & high speed emulsifier are from top. In-line Emulsifier ( as per customer choice ) provided on demand. ( Optional )
All vessels are suitable for internal pressure of 1 Kg. / Sq. cm. and hence can be sterilized.
All pipes, pipe fittings and valves are of SS304 / SS316 (as per customer requirement) seamless quality, internally electro polished, with tri-clover ended joints.
The entire plant is equipped with CIP & SIP connections, so that customer can use this facility, if have CIP & SIP equipment.
All values of temperature & time of the plant are indicated digitally on the control panel. Ampere indicates on Ampere meters.
A micro processor based automatic operating plant can be designed as per requirement. (Optional )
All the inlet & outlet connections are provided with tri clover joints, which are very easy for cleaning & replacement.
Looking for "
Liquid Syrup Manufacturing Plant GMP Model

" ?
Piece(s)