Powder Mass Mixer GMP Model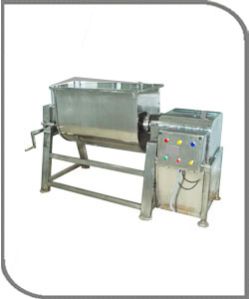 Price :
1.50 Lac
/ Piece(s)
Business Type
Manufacturer, Supplier
Application
Industrial
Color
Silver
Warranty
1year
Click to view more
Introduction
The YPM Mass Mixer Machine is basically mixing a assembly wherein the mixing stirrer is in horizontal position in the container & have a single speed, simple rotation. The stirrer rotates around itself at a very slow speed inside the bowl and thereby achieving intimate mixing of dry or wet materials of Tablet Granulation, Powder, Chemicals, and Food & Confectionaries Materials. Because of a special design feature of machine & stirrer, the mass mixer can be mix the sticky materials & also uniformly and intimately mix the materials which are to be difficult to mix.

Application : YPM Mass Mixers are Ideal for mixing of Pharmaceutical powders, chemicals, food and confectioneries etc.

Special Features:
Range of YPM Mass Mixers models to suit working volume 50,100,200,500 and1000 Kgs. At bulk density of 0.50 gms/cc.
All contact parts of mass Mixers are made out of S.S.304 quality material.(SS316 provided on demand on extra cost)
Compact design requires comparatively smaller floor space.
Single stirrer with single speed for dry & wet mixing.
All non contact parts in the mass mixers (general structure) are made out of mild steel and cladded with SS304 or chrome plated or made out of SS304 in GMP Model. Contact parts are polished to the mirror finished and non contact parts are polished to the matt finished in GMP Model. All safety guards & covers made out of SS304 material in GMP model & made out of mild steel & painted in standard model. All moving parts are enclosed with safety guards.
All moving parts are enclosed with safety guards.
Thrust bearings are provided to carry out rigid thrust load.
Easy for cleaning & operating.
Simply designed SS304 dust cover provided with one port for material charging & inspection.
Interlocking system with top dust cover, to avoid accident, during process. The container tilting system provided for easy unloading of material and easy cleaning.
Specially design all moving parts provided with provision of easy lubrication.

Shell  : Consisting of 'U' Shape of suitable dimensions. Construction of S.S. and side plates duly M.S. stiffened from outside and from inside with S.S.

Mixing Mechanism : Paddle type blades welded to the main shaft provide for efficient mixing of thick heavy material. PTFE gland mechanism provided at shaft ends prevents ingress of external powder into the trough and prevents leakage.

Charging : From the top charging can be done through a hinge able lid; hopper or Nozzle can be provided for additional spraying of additives.

Discharge : By bottom discharge slide Iris or Butterfly valve of suitable diameter, for regulated discharge.

Drive : Consisting of suitable H.P. TEFC 3 phase ac 415v / 50 cycles motor coupled to suitable worm gear, with driving shafts mounted on suitable Plummer block.

Mounting  : Mounted on suitable ISMC Section Stand, with protective covers for belts and couplings.

MOC : All contact parts in S.S. Constructions. Complete unit with S.S. cover and all surfaces polished to mirror dull finish. MS parts dull painted to smooth finish.

Options Available:
The control panel is mounted on platform and is provided with
Unit with FLP
Unit in S.S. 316
GMP Model with M.S. parts cladded with S.S.
Read More...
Looking for "
Powder Mass Mixer GMP Model

" ?
Piece(s)